Performance Oriented - Board Performance Reviews ...
The Critical Questions for Governing Bodies to Answer are twofold:
1. How "good" is your Governing Body on the Performance Spectrum?
2. Has your Governing Body demonstrably improved its Performance each year?
GRC Consulting provides a world-class market-leading solution for Governing Bodies that are Performance Driven and Oriented – Independent Board Performance Reviews.
As all Governing Bodies are different, and to make a properly considered decision, one has to consider the Governing Bodies within an appropriate framework and determine within a myriad of factors to ensure it is adopting the correct approach to its Board Performance Review and, therefore, positioning the Governing Body appropriately for a Board Performance Review that adds the most value.
We reflect these two approaches available to the Governing Body graphically as follows:
The foundation for Performance is that the Governing Body is on top of and has fully and appropriately implemented all of its Corporate Governance, such that it can leverage the Directors and its Governance Framework to drive long-term sustainable value.
This is a sensible check to put egos and aspirations aside and take a good hard reality check regarding the Governing Body's Competence and Performance.
Not every Governing Body is a Top-Level Performer. This is not about downgrading the view of the Governing Body, its Competence and its Performance. The issue is to ensure that we adopt the correct approach in applying the proper Board Performance Review focus, such that we maximise the outcome for the Governing Body to drive Continual Annual Performance.
No world-class team gets to its leadership position without hard work and repetitive focused training.
Board Performance Reviews are a mechanism for the Governing Body to improve Performance.
GRC Consulting understands this implicitly and can help you select the correct approach and realise Governing Body Performance Improvements through our approach and world-class methodologies.
As we are constantly reminded, "one has to be able to walk before running," and in the case of Board Performance Reviews, "its horses for courses" or, more succinctly, it is crucial to ensure that we understand the Board's proper positioning and apply the correct Board Performance Review approach according.
Performance Oriented Board Performance Reviews …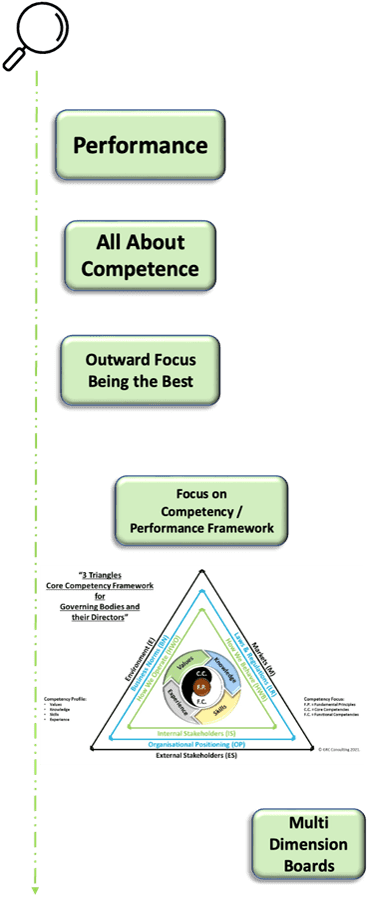 In considering a "Performance Oriented" positioning, the Governing Body should be able to clearly show that from a Maturity perspective that it demonstrates the characteristics of being:
Progressive
Advanced to Leading Practice
That the Effectiveness of the Board's Performance, seen by an independent Observer, would be adjudged as:
At a minimum, Averagely to Structured to Well Structured
Further, the Governing Body would tend to be focused on the following:
"Performance",
be all about Competence,
outward focused,
with the mindset and drive to continually be the best,
with that focus centered around Competence / Performance with their respective corporate governance framework, which has been developed to suit the achievement of their purpose and long-term sustainable vision.
GRC Consulting's proprietary © GRC Consulting model utilises a "Competence / Performance" framework in delivering its Independent Board Performance Reviews.
"3 Triangles Core Competency Framework for Governing Bodies and their Directors"
GRC Consulting and its "3 Triangles Core Competency Framework for Governing Bodies and their Directors", words, diagrams and associated logos are Trademarks. All rights are reserved to GRC Consulting. No reproduction, modification, or use in any form may be undertaken without the written permission of GRC Consulting.
At first glance, the interested Governing Body reader should clearly discern that this is not an inward, compliance-focused framework.
It is worldly, globally, outwardly focused, considerate of the environment, social, markets, and business placement of the organisation, yet comprehensively linking the outside world, through its relevant laws, business norms, and strategy, to the inner workings and structures encompassing "How We Operate", "How We Behave", and it's Internal Stakeholders, required by high performing Boards and their organisations, with a central focus on the Governing Body and its Director's respective "Competency Profile" and "Competency Focus". It is all about Performance.
GRC Consulting firmly believes that to be of true value to Governing Bodies and Directors, the Performance / Competency Framework must be as practical and oriented to a Director's working life as is possible.
It must take the perspective of the director sitting behind the desk, facing real life, having to consider and do the things that governing bodies and their directors have to do, that they have to deal with.
Further References and Reading ...
If this "Performance Oriented" approach is the correct approach for your Governing Body, then please read the detail about our "Performance Oriented" Service, which applies to any International Governing Body:
Governing Body Performance Assessments – International – To read further on this Service, please click the "Read More" button.
If you feel that your Governing Body would benefit from a structured GRC Consulting online Assessment to confirm the Governing Body's correct positioning as to the "Performance Oriented" versus "Conformance Oriented" approach, then please read further on our Service, applicable for any International Governing Body:
Decision Support – Performance vs Conformance Assessments – To read further, please click the "Read More" button.
GRC Consulting recommends that those Governing Bodies and their Directors who are not at or have a concern as to the level of their Governing Body and or individual Director's Regulatory Corporate Governance Compliance as a process of maturity development and compliance positioning they incorporate into their Board Performance Reviews, a program that is more appropriately focused upon addressing their respective Regulatory Corporate Governance positioning first. Please read further on our "Conformance Oriented" approach:
Conformance Oriented – Board Performance Reviews – To read further, please click the "Read More" button.