The Statement …
Our Board no longer has face to face Board Meetings, and we are now meeting remotely online. This is a trend that is likely to continue for the foreseeable future.
How do we best undertake important Board Voting on Resolutions and other business, that is efficient and effective, complies with International law, provides an audit trail and is transparent, to ensure that all Directors see who is voting and in which direction.
The Challenge …
Our client Board tasked us to provide them with a solution service that would:
cater for their unique Director represented Shareholder voting block allocations,
be possible to provide as a service, to deploy at all their Board Meetings, in coordination with the Board Secretary,
to cater for facilitating any Board of Directors Resolution Vote,
that recorded the vote of each and every Director present, in way that:

identified each Director,
recorded the vote cast by each Director, with a defensible audit trail, and
catered for Vote being cast as either:

Not Approved,
Abstention, and
Approved,
the results of which could be visually presented real-time to all Directors present, at the closure of each Board vote,
could ultimately drive the production of the Board Resolution document and outcome of the Motion, incorporating the respective voting block allocations,
would comply with international law in respect of recorded audit trail, and
would provide a secure encrypted link with robust Director logon access requirements.
The Solution …
GRC Consulting utilises the latest leading edge, collaborative, real-time meeting technology to facilitate its Electronic Meetings.
For this scenario, we deployed our Web Hosted Meeting option, that would provide both remote, online, real-time or any-time encrypted and highly secure access, that is configurable, incorporating:
"secure encrypted url meeting access links" for distribution to Directors through the Meeting Chat system utilised by the Board,
"Named Access" requiring First name + Surname logon access, together with,
"E-mail" entry logon access for respective directors,
"Configurable Meeting Access Code" entry logon access.
We worked with the Company Secretary and CEO, incorporating their list of 11 Board Resolutions and Board, comprising 10 Directors, to establish the "Board Resolution Voting Meeting", within which we then structured "11 individual meeting rooms" which dealt with each of the named and identified Board Resolutions before the Board, requiring their Vote.
The new Board Process incorporated into the Board of Directors online Board Meeting by GRC Consulting, is as follows:

Through the use of the GRC Consulting Tool, not only were we able to transparently show the Board of Directors the results of each Board Resolution Voting by the Directors, we were also, within 5 minutes of the closure of the Board Agenda Board Resolution session, able to provide the soft copies of the respective Resolutions to the Company Secretary, that incorporated:
the corporation board resolution template, Corporation details and graphics layout,
the respective Board Resolution Details and date,
the Listing of Directors present, together with their system "Digital Signatures",
the voting results cast by each Director, together with their respective Shareholder voting block allocations,
all calculations and generation automated by system inputs, and
the calculated outcome of the status of each Resolution Motion, as to whether it was: Not Approved; Abstained; or Approved.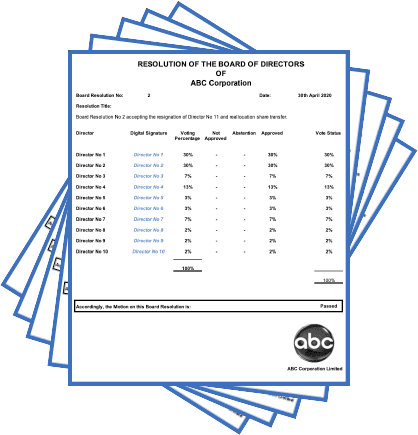 The Benefits …
we were able to incorporate a new Board process into the Board of Directors Meeting that was highly efficient and effective, that did not cause the Directors any technology or other discomfort and was highly secure, exceeding all the Corporations requirements for security and logon access.
We catered for the Corporation's unique Shareholder voting block allocations and together with automating the Board Resolution generating process and incorporating these metrics into the backend, we were then able to provide the soft copies of the Board Resolutions and their outcomes in record time for the Company Secretary.
We ensure that the system met all of the local and USA legal and corporate governance requirements, including access, process and outcome audit trails, together with a soft copy Meeting Backup file for historical records, in addition to Voting Session reporting from GRC Consulting.
We were able, in real-time, to transparently provide the results of Directors Voting.
We were, through our professional expertise and knowledge, able to make the backend investment into and contribution of a structured process, which the Board was unable, that ultimately contributed to a Strategic Objective oriented approach, that was highly efficient and produced to a superior outcome for the Board's important decision.
The process itself is highly participative and collaborative, which resulted in a high level of Director engagement and contribution and therefore a higher level of Director understanding and support for the final outcome.
As professional corporate governance experts, we integrated an independent uniquely qualified expert system of ongoing support service to the Board.
They were delighted with the outcome and have retained and expanded our services to broader Board Meeting and other assistance, particularly electronic facilitation.
Why we do what we do …
Everything we do at GRC Consulting, we believe in Challenging the Status Quo and Achieving Simplicity to directly benefit you.
We believe in thinking differently and working with you in Partnership to solve your greatest challenges for long term benefit.
The way we challenge the status quo is by making Tailor-made solutions meet your specific requirements, and
Delivering our Solutions to you in beautiful simplicity.
Simple to understand, Simple to implement and Simple to use.
We are Boardroom Leadership Governance, Risk and Compliance Experts.
Want to work with us?